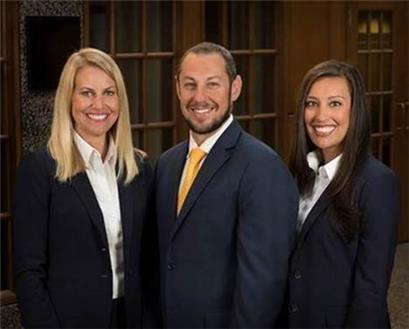 About us
The Jennings Wohl Group
Headquartered in Farmington Hills, Michigan, the Jennings Wohl Group works with a select group of accomplished clients, streamlining the complexities that significant wealth can entail. The team advises clients throughout the United States, assisting multiple generations in growing, preserving and transferring wealth effectively. Keenly attuned to each client's unique priorities and aspirations, the team's advisors begin each relationship by distilling a family's intent for its wealth, grounding its work in that singular vision. They then design and implement highly tailored programs that leverage the team's distinctive skills and strengths, helping families realize their deeply-held goals.
Insight that Stems from Experience
Team founders Jennifer Jennings and Donny Wohl have spent their careers focused on the unique needs of affluent families, providing them with insight into the opportunities and challenges that arise. As members of the Private Banking and Investment Group at Merrill Lynch, Jennifer and Donny have access to in-house specialists and intellectual capital that reflect the concerns of high-net-worth clients. As trusted advisors to an intimate circle, Jennifer and Donny also help discern and share best practices, enabling clients to benefit from the first-hand experiences of like-minded peers. Team member Cindy Lundberg leads the group's service model, providing the high-touch outreach that client families expect and deserve.
A Single Source for Integrated Offerings
The team advises a number of entrepreneurs, business owners and other professionals, advancing a holistic approach that smooths the intersection of personal and professional wealth. Adept in analyzing both sides of a client's balance sheet, the team seeks to capitalize on efficiencies and remedy gaps, integrating the extensive resources of Merrill Lynch and Bank of America. Clients look to the team for timely information and in-depth analysis during critical crossroads in their financial lives. Moreover, the team helps to advance cohesive strategy and tactics across a client's professional network. Working in concert with a client's external tax and legal advisors, the team advances sound communication, timely collaboration and unified strategy.
The team offers a suite of customized offerings:.
Tailored portfolio design
Trust and estate planning services
Wealth strategy and planning
Pre- and post-liquidity event strategy
Business succession strategy
Access to structured lending through Bank of America, N.A.
Philanthropic services
Next-generation education
An Unwavering Focus on Client Well Being
The Jennings Wohl Group prizes transparency, consistency and stability as its core values. As integral members of clients' lives, the team is resolute in focusing on long-term client goals. Through diligent effort and a disciplined process, the team strives to help each family realize its objectives, refining strategies and tactics to reflect changing economic environments and evolving client needs. Mindful of each family's circumstances, the team applies a tax- and fee-sensitive approach that helps clients retain their hard-earned capital.* In addition, the team grounds its efforts in a risk-management methodology that prioritizes wealth preservation as a paramount priority.
The team invites individuals and families with complex wealth circumstances to contact them for more information about the team's capabilities relative to their needs.
________________________________________
Neither Merrill Lynch nor its Financial Advisors provide tax, accounting or legal advice. Clients should review any planned financial transactions or arrangements that may have tax, accounting or legal implications with their personal professional advisors.
Meet the team
Jennifer Jennings is registered to do business in : AK, AL, AR, AZ, CA, CO, CT, DC, DE, FL, GA, HI, IA, ID, IL, IN, KS, KY, LA, MA, MD, ME, MI, MN, MO, MS, MT, NC, ND, NE, NH, NJ, NM, NV, NY, OH, OK, OR, PA, PR, RI, SC, SD, TN, TX, UT, VA, VI, VT, WA, WI, WV, WY
Donny Wohl is registered to do business in : AK, AL, AR, AZ, CA, CO, CT, DC, DE, FL, GA, IA, ID, IL, IN, KS, KY, LA, MD, ME, MI, MN, MO, MS, MT, NC, ND, NE, NH, NJ, NM, NV, NY, OH, OK, OR, PA, PR, RI, SC, SD, TN, TX, UT, VA, VI, VT, WA, WI, WV, WY