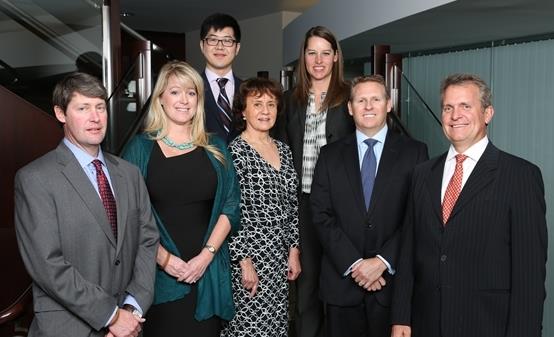 About us
MISSION STATEMENT
We provide institutions and substantial private investors with tailored consulting services and investment advice, delivered with outstanding service.
ADVISORY APPROACH
Our approach is not transactional, and we do not seek to manage client assets ourselves. Our approach involves developing a long-term asset allocation strategy designed to achieve our client's objectives, while assuming a suitable level of volatility given the client's risk tolerance profile. We recommend the most appropriate world-class investment managers in each asset class, and because we advise on over $10 billion in assets, as of September 30, 2017, we are able to negotiate highly cost-effective fee schedules. Our oversight includes implementing the investment strategy and closely monitoring the overall structure. For taxable portfolios, tax management is an integral part of our consulting process throughout the year. We also offer Outsource CIO (OCIO) solutions.
PROFESSIONAL EXPERIENCE
Our team has 80 years of cumulative experience in providing investment consulting and wealth management services. We were named to the Barron's Top 30 Institutional Consultants list in 2015, 2016, and 2017. We oversee $3.4 billion in individual and corporate client assets custodied at Merrill Lynch, and through Merrill Lynch's Consulting and Advisory Services, we consult on over $6.7 billion dollars in tax-advantaged assets, as of September 30, 2017. The majority of these assets belong to nonprofits and corporate and jointly-trusteed pension plans. We are currently responsible for approximately 49 relationships, 18 of which are Consulting and Advisory Services relationships.
REPRESENTATIVE CLIENT LIST
Some of our Institutional Clients Include: Corporate Pension Plans, Foundations, Endowments, Taft-Hartley plans, Hospital assets, Tribal assets
Disclosure
Some or all alternative investments may not be suitable for certain investors. Certain alternative investments carry significant risk and are not subject to the same regulatory oversight as mutual funds and other traditional investments. For these reasons, access to alternative investments may be limited to investors who are designated as sophisticated, high-net-worth investors. *Asset Allocation does not ensure a profit or protect against loss in declining markets. Neither Merrill Lynch nor its Financial Advisors provide tax, accounting or legal advice. Clients should review any planned financial transactions or arrangements that may have tax, accounting or legal implications with their personal professional advisors. *Investment Management Consultants Association (IMCA®) is the owner of the certification marks CIMA® and Certified Investment Management Analyst®. Use of CIMA® and Certified Investment Management Analyst® signifies that the user has successfully completed IMCA's initial and ongoing credentialing requirements for investment management consultants. *Source: Barron's "Top 30 Institutional Consultants" list, April 17, 2017. For more information about the selection criteria, go to Barron's Top Financial Advisors page. The ranking features the top institutional consulting teams from traditional brokerage firms as well as registered investment advisor (RIA) firms and independent broker-dealers. The teams in the ranking were evaluated on a range of criteria, including institutional investment assets overseen by the team, the revenue generated by those assets, the number of clients served by the team, and the number of team members and their regulatory records. Also considered were the advanced professional designations and accomplishments represented on the team. Barron's does not receive compensation from Advisors, participating firms and their affiliates, or the media in exchange for rankings. Barron's is a trademark of Dow Jones & Company, Inc. All rights reserved.
Meet the team
Mark Jacoby is registered to do business in : AZ, CA, CO, DC, FL, GA, HI, ID, IL, MA, MO, NC, NE, NJ, NV, NY, OR, PA, SC, TN, TX, UT, VA, WA, WY
Mike Starratt is registered to do business in : AZ, CA, CO, DC, FL, GA, HI, ID, IL, MA, MD, MO, NC, NE, NJ, NV, NY, OR, PA, SC, TN, TX, UT, VA, WA, WY
Jack Carlson is registered to do business in : AZ, CA, CO, DC, FL, GA, HI, ID, IL, MA, MO, NC, NE, NJ, NV, NY, OH, OR, PA, SC, TN, TX, UT, VA, WA, WY
Brenda Berger is registered to do business in : AZ, CA, CO, DC, FL, GA, HI, ID, IL, MA, MO, NC, NE, NJ, NV, NY, OH, OR, PA, SC, SD, TN, TX, UT, VA, WA, WY