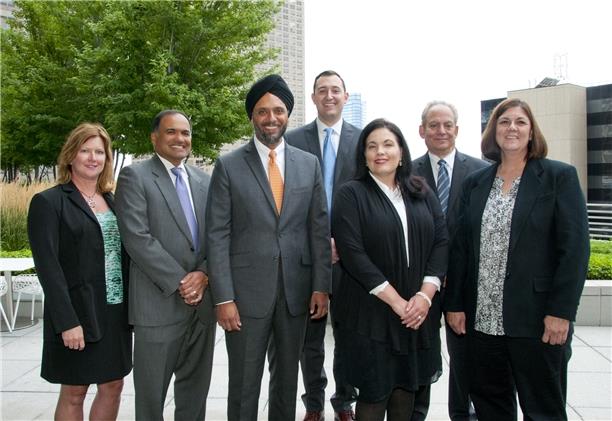 About us
The Rathi Singh Group
Located in Chicago, we are a private wealth management team that provides highly customized and coordinated financial strategies to ultra-affluent clients. We work with a select group of accomplished individuals and families who have complex needs. The clients we serve are busy and engaged individuals with a number of competing responsibilities: personal, professional, and philanthropic. We unify and streamline concurrent priorities, designing initiatives that seek to advance multiple goals.
In an era in which a "holistic approach" is too often trumpeted as an achievement, we view cohesion, integration, and coordination as the very baseline of our approach. Our goal is straightforward: we seek to provide ease and simplicity in whatever financial matters are important to the clients we serve.
Focused Outreach for a Select Client Base
We are not all things to all people; we look to work with the clients who can most benefit from our offerings. We have extensive experience working with senior executives of public companies and business owners and operators who face transition and legacy opportunities, and who may anticipate or have transacted the sale of a business. We know the challenges and opportunities inherent in each source of wealth; our focus intensifies our effectiveness in catering to client needs.
As Advisors, we provide insight and guidance that can only arise from experience. We realize that significant wealth truly is different – both in its needs and in its ramifications. We have built our team specifically to address the particular nuances of an elite client base; the selective nature of our engagements enables us to anticipate and execute with diligence and precision.
Grounded in a Balanced Approach
Our team has a differentiated background that aligns with the varied needs of our client base. We unify analytical rigor, thoughtful implementation, and a cogent understanding of each family's dynamic to develop customized suites of strategies and services.
We leverage the renowned research, intellectual capital, and investment offerings of the Private Banking and Investment Group at Merrill Lynch to pursue capital preservation and growth, mindful of each client's risk tolerance and wealth transfer goals. We collaborate with in-house specialists with deep experience in trust and estate planning services, family office services, and philanthropic initiatives to enact multi-disciplinary strategies for inter-generational transfer and legacy fulfillment. We also facilitate customized credit and lending through Bank of America, N.A.
In all of our efforts, we seek to integrate the variables that will yield optimal outcomes for the clients we serve. We remain mindful of a client's overarching goals, yet focused on the day-to-day details that help drive client satisfaction and long-term fulfillment.
A Single Source for Diverse Needs
We offer a distinctive skillset, a broad knowledge base, and a facility in distilling complexity. We look to provide thoughtful and meaningful guidance on a range of wealth management issues:
Investment management
Restricted and concentrated stock strategies
Liquidity event: pre- and post- strategies
Tax minimization strategies*
Banking and lending through Bank of America, N.A.
Trust and estate planning services
Philanthropy
Meet the team
Rajeev Rathi is registered to do business in : AK, AZ, CA, CO, DE, FL, IA, IL, IN, KY, MD, MI, MN, NC, NJ, NV, NY, OH, OR, SC, TX, VA, WI
Kanwar M. Singh, CDFA® is registered to do business in : AK, AZ, CA, CO, DE, FL, IA, IL, IN, KY, MD, MI, MN, NC, NJ, NV, NY, OH, OR, SC, TX, VA, WI
Steven Coleman is registered to do business in : AK, AZ, CA, CO, DE, FL, IA, IL, IN, KY, MD, MI, MN, NC, NJ, NV, NY, OH, OR, SC, TX, VA, WI