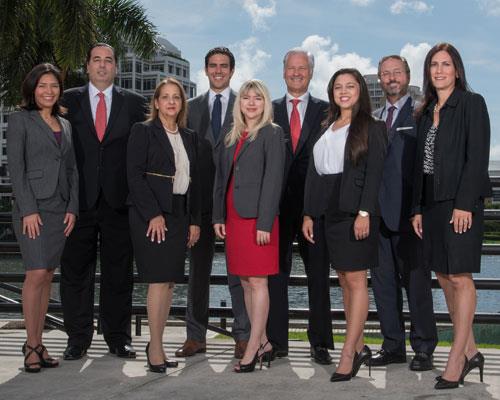 About us
The Premia Group
The Premia Group is a wealth management team that works closely with affluent business owners, entrepreneurs, executives and global families. Based in Miami, Florida we serve clients from a range of industries and backgrounds. Some clients are U.S. focused in their business, family and community priorities. Others are more global with family members, business interests or philanthropic concerns that are international. Whatever their source of wealth or geographic framework clients turn to us for guidance, strategy and experience in navigating the complexities of wealth. We emphasize that money is a tool to pursue what is most important to a person or family. We work closely with clients to determine and define their priorities so that together we can pursue a deliberate and integrated wealth management strategy.
A Stability Grounded in Experience
The Premia Group is characterized by stability, longevity and experience. Our leaders have worked together since 1990 lending continuity to our approach. Our extended tenure with Merrill Lynch enhances our effectiveness as stewards for our clients. We know how to navigate the expansive resources of the firm identifying capabilities that respond to client needs. Our years in wealth management have infused our outlook with a seasoned maturity that comes only with time. We welcome the opportunity to help clients with complex financial issues applying our storehouse of practical knowledge and hands on experience.
Unwavering Client Focus
It is easy to describe superlative client service, but harder to deliver. At the Premia Group we focus on delivering. We make ourselves available to clients at all times. We constantly ask ourselves how we can enhance the client experience. We consider the unique circumstances of each client and push ourselves to exceed client expectations every day. Our client retention rate is the best testimonial to our work ethic and client focus. We believe that our deeds speak more loudly than our words.
An Inclusive Perspective on Client Priorities
Wealth management means different things to different people. At the Premia Group we address a full range of wealth management concerns. We look to help the whole person – family member, business leader, community contributor and philanthropist. These different roles required tailored services and strategies. We recognize that financial stability and longevity are key priorities for affluent families. We address these priorities through long term investment management, estate planning strategies, risk analysis and cash flow analysis. We complement these offerings with financial education and family outreach events. By balancing the diverse facets of wealth we look to serve the whole client today, tomorrow and many years from now.
Offering the Services that Affluent Clients Require
Our team is experienced in addressing the issues posed by significant wealth:
Investment management
Concentrated and restricted stock management
Trust and estate planning strategies
Tax-sensitive strategies
Banking and lending through Bank of America, N.A.
Philanthropy
_____________________________________________
Neither Merrill Lynch nor its Financial Advisors provide tax, accounting or legal advice. Clients should review any planned financial transactions or arrangements that may have tax, accounting or legal implications with their personal professional advisors.
Certified Financial Planner Board of Standards, Inc. owns the certification marks CFP®, CERTIFIED FINANCIAL PLANNER™ and CFP® in the U.S. which it awards to individuals who successfully complete CFP Board's initial and ongoing certification requirements.
Investment Management Consultants Association (IMCA®) is the owner of the certification marks CIMA®, CPWA®, Certified Investment Management Analyst® and Certified Private Wealth Advisor®. Use signifies that the user has successfully completed IMCA's initial and ongoing credentialing requirements for certification.
CFA® and Chartered Financial Analyst® are registered trademarks of the CFA Institute.
Meet the team
Esteban Prellezo is registered to do business in : CA, CO, CT, DE, FL, GA, IL, IN, MA, MD, ME, MI, MN, NC, NY, OH, OR, PA, SD, TX, VA, VT, WY
Alberto F. Cosio is registered to do business in : CA, CO, CT, DE, FL, GA, IL, IN, MA, MD, ME, MI, MN, NC, NY, OH, OR, PA, SD, TX, VA, VT, WY
Margarita Carreno Rodriguez, CIMA®, CFP® is registered to do business in : CA, CT, DE, FL, GA, IL, IN, MA, MD, MI, MN, NY, OH, OR, PA, SD, TX, VA, WY
Andres Castillo is registered to do business in : CA, CT, DE, FL, GA, IL, IN, MA, MD, MI, MN, NY, OH, OR, PA, SD, TX, VA, WY