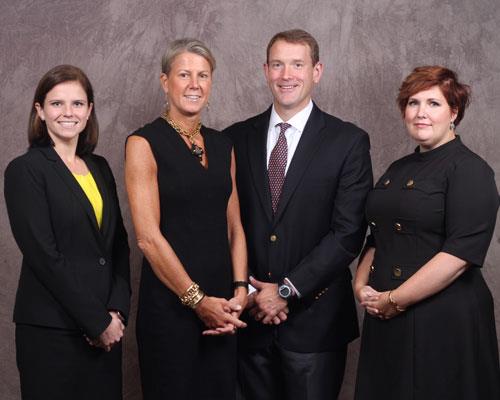 About us
The Hunter McCormack Group
Headquartered in Philadelphia, we are a wealth management team within the Private Banking and Investment Group at Merrill Lynch. We serve a small number of significant clients, providing a caliber of strategy and service that attests to our deep-seated interest in client well-being. We've focused on the needs and priorities of ultra-affluent clients throughout our careers, heightening our ability to serve this distinguished and accomplished clientele with refined tactics and nuanced advice. We recognize that significant wealth is different in its scale and opportunities, as well as challenges. Clients look to us to streamline the complexity posed by diverse aspects of their financial lives. We relish the opportunity to serve as trusted advisors to multiple generations, founding our approach on transparency, integrity, and reliability.
An Intimate Client Experience
We work with a limited group of individuals and families located throughout the United States. The clients we serve have diverse paths to wealth; many are entrepreneurs or C-level executives, as well as their extended family members and philanthropic foundations. These clients share a common desire to unwind complexity and deploy wealth efficiently. We are particularly skilled in tackling that mandate. As a team, we apply our collective talents and strengths to address client needs quickly, efficiently, and effectively, generating customized strategies that seek to advance client interests. We're privileged to enjoy long-term relationships that deepen over time and are honored by client referrals as our primary source of new engagements.
A Holistic Approach to Client Priorities
We understand that affluence can entail a level of decision-making and coordination that is daunting. As Private Wealth Advisors, we help clients navigate critical crossroads in their financial lives, helping them make informed decisions that reflect their own distinctive circumstances and goals. We take a holistic approach to wealth, embedding multiple disciplines within our analysis, strategic design, and service model:
Investment management
Liability management
Trust and estate planning services
Wealth advisory
Philanthropic services
Administrative and lifestyle services
Access to personal and corporate banking through Bank of America, N.A.
A Deeply Ingrained Service Ethic
We've always believed in putting client needs first. That principle is the bedrock of our reputation and the mission that drives our work. We truly believe that our success is measured by client success. If an issue impacts a client, it impacts us. Clients contact us at their convenience—not our own. And we encourage frequent communication—both formal and informal—so that we can stay apprised of their needs. It is truly our pleasure to serve.
We invite individuals and families with complex needs and sophisticated demands to contact us to discuss their needs relative to our capabilities in more detail.
Meet the team
Rosalie Hunter is registered to do business in : AZ, CA, CO, CT, DC, DE, FL, GA, HI, IL, KY, MA, MD, MI, MN, MO, NC, NJ, NV, NY, OH, OR, PA, RI, TX, VA, WA, WV
William E. McCormack is registered to do business in : AZ, CA, CO, CT, DC, DE, FL, GA, HI, IL, KY, MA, MD, MI, MN, MO, NC, NJ, NV, NY, OH, OR, PA, RI, TX, VA, WA, WV