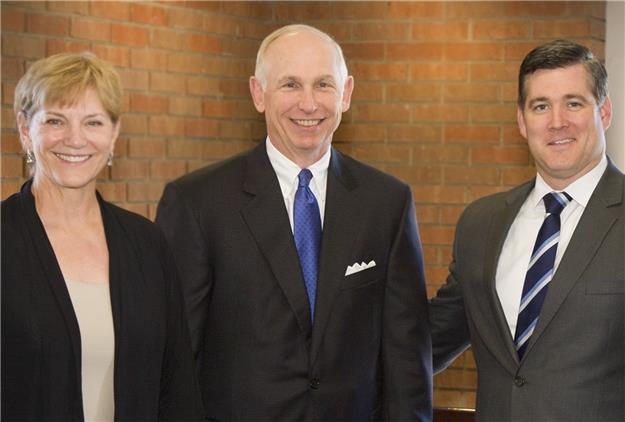 About us
Feuerbacher / Williams Group
The Feuerbacher Williams Group is a wealth management team dedicated to providing independent objective financial advice to affluent families and institutions. We serve 15 institutional consulting clients and 25 high net worth family clients with total assets nearing $3 billion as of June 30, 2016. The success of our team is built around three simple yet enduring tenets: Understanding Your Goals; Stewardship; and Leadership. Whether you are an institution or a multigenerational family our stewardship begins with a deep discussion of your core values, goals and objectives. We view ourselves as stewards of the assets entrusted to us by every client. Stewardship encompasses the ideas of ethical and prudent decision making, objectivity, responsibility and proper governance. Simply stated we put the needs of clients first. In times of market stress too many investors make rash decisions that are fueled by emotion rather than the conviction that comes with a principled academic approach to investing. Grounded in the science of finance our approach allows us to stay the course with confidence as markets fluctuate rising above reactionary thinking. We apply our disciplined approach with diligence accounting for the particular circumstances of each client. By focusing on these three tenets we have promoted client satisfaction and retention which are the most potent testimonials to our work.
Our Dual Focus
Our group is distinctive in its focus on institutions and families, a duality that enables us to transfer and apply best practices within each sphere. We are one of only 20 teams firm wide to be designated as a Global Institutional Consulting Team. We have over 30 years experience in providing consulting services to endowments, foundations, corporate retirement plans, Taft-Hartley plans, hospitals, associations, insurance companies and tribal nations. Our investment recommendations are both time tested and forward looking customized to the needs of each client. We use both passive and active strategies. Individual clients benefit from our experience with institutional clients because we apply the same rigor, discipline and structure in addressing a family's needs. We provide cash flow and balance sheet analysis to individual clients. We also apply institutional investment processes and strategies to high net worth assets with a focus on tax efficiency. For high net worth families we believe strongly that it is not what you earn, but what you keep.
Our National Recognition
Barron's Magazine named Jay Feuerbacher one of the Top 1,200 Financial Advisors in America in 2010, 2011, 2012, 2013, 2014, 2015 and 2016. Barrons Magazine also recognized Jay as one of the Top Institutional Consultants in America for 2015. We are located at: 1630 South Lindbergh Blvd., St. Louis, MO. Neither Merrill Lynch nor its Financial Advisors provide tax, accounting or legal advice. Clients should review any planned financial transactions or arrangements that may have tax, accounting or legal implications with their personal professional advisors. Barron's "America's Top 1,200 Advisors: State-by-State" list, March 7, 2016. For information about the selection criteria go to Barron's Top Financial Advisors page. Barron's is a trademark of Dow Jones & Company, Inc. All rights reserved. Years prior to 2014 this Barron's list consisted of 1,000 advisors. Barrons Top Institutional Financial Advisors list, April 20, 2015. The ranking features the top institutional consulting teams from traditional brokerage firms as well as registered investment advisor (RIA) firms and independent broker dealers. The teams in the ranking were evaluated on a range of criteria including institutional investment assets overseen by the team, the revenue generated by those assets, the number of clients served by the team and the number of team members and their regulatory records. Also considered were the advanced professional designations and accomplishments represented on the team. Barrons does not receive compensation from Advisors, participating firms and their affiliates or the media in exchange for rankings. Barrons is a trademark of Dow Jones & Company, Inc. All rights reserved. Investment Management Consultants Association (IMCA®) is the owner of the certification marks CIMA® and Certified Investment Management Analyst®. Use of CIMA® or Certified Investment Management Analyst® signifies that the user has successfully completed IMCA's initial and ongoing credentialing requirements for investment management consultants. CRPC® and Chartered Retirement Planning CounselorSM are registered service marks of the College for Financial Planning.
Meet the team
James Feuerbacher is registered to do business in : AZ, CA, CO, CT, FL, GA, IA, IL, IN, KS, KY, MA, MD, ME, MI, MO, MT, NC, NY, OH, OK, PA, SC, TN, TX, VA, VT, WA, WY
Shawn Williams is registered to do business in : AZ, CA, CO, CT, FL, GA, IA, IL, IN, KS, KY, MA, MD, ME, MI, MO, MT, NC, NY, OH, OK, PA, SC, TN, TX, VA, VT, WA, WY