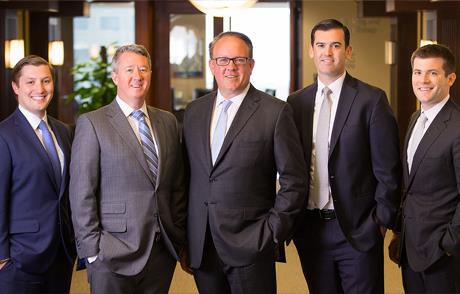 About us
The Delahunty King Kelly Group
Our team provides tailored wealth management strategies, precise implementation, and dedicated service to a select group of ultra-high-net-worth individuals, families, and tax-exempt organizations. Headquartered in Boston, we work with a national clientele, designing customized initiatives to help clients pursue their goals. We enjoy building deep relationships, catering to client needs with an intimacy and intensity that we believe sets us apart.
As a team within the Private Banking and Investment Group at Merrill Lynch, we offer a boutique sensibility combined with an extensive breadth of resources. We purposefully limit our engagements to those clients that can most benefit from our strengths, skills, advice and guidance.
The Difference of Experience
We understand that significant wealth can pose newfound challenges—and opportunities. The leaders of our team—Patrick Delahunty, Tim King, and Brian Kelly—have worked together for close to a decade. As a result, we're skilled in distilling the complexity that can accompany substantial wealth. Our longevity as a team heightens our efficiency and amplifies our impact. We recognize what needs to be done and how to do it. Clients come to us for diverse needs; we welcome the opportunity to serve as their entrée to the larger Bank of America enterprise.
An Integrated Approach
As veteran advisors, we appreciate the essential role of sound investment management. Our team has the maturity and judgment to navigate diverse market environments. We offer the refined capabilities denoted by the CFA® designation, as well as the practical knowledge that stems from decades of experience. We are more than portfolio managers, however. We offer an integrated approach that unifies multiple disciplines:
Trust and estate planning services
Liquidity-event strategies
Concentrated and restricted stock strategies
Access to customized credit through Bank of America, N.A.*
Tax-sensitive charitable giving
Service as the Foundation of Our Outreach
We've structured our team to provide intensive coverage for client needs, from day-to-day requests to long-term initiatives. Our Private Wealth Associates, Miles Burgess and Kyle Kadlick, pride themselves on precise follow-through and reliable assistance for requests large or small.
We invite individuals, families, and institutions with complex requirements and sophisticated demands to contact us to discuss their needs relative to our capabilities.
* Neither Merrill Lynch nor its Financial Advisors provide tax, accounting or legal advice. Clients should review any planned financial transactions or arrangements that may have tax, accounting or legal implications with their personal professional advisors.
Chartered Financial Analyst® and CFA® are registered trademarks of the CFA Institute.
Meet the team
Patrick Delahunty is registered to do business in : CA, CO, CT, DC, DE, FL, ID, MA, MD, ME, MI, MN, NC, NH, NJ, NY, OH, OR, PA, RI, SC, VA, VT, WA
Timothy King is registered to do business in : CA, CO, CT, DC, DE, FL, ID, MA, MD, ME, MI, MN, NC, NH, NJ, NY, OH, OR, PA, RI, SC, VA, VT, WA
Brian J. Kelly, CFA is registered to do business in : CA, CO, CT, DC, DE, FL, ID, MA, MD, ME, MI, MN, NC, NH, NJ, NY, OH, OR, PA, RI, SC, VA, VT, WA