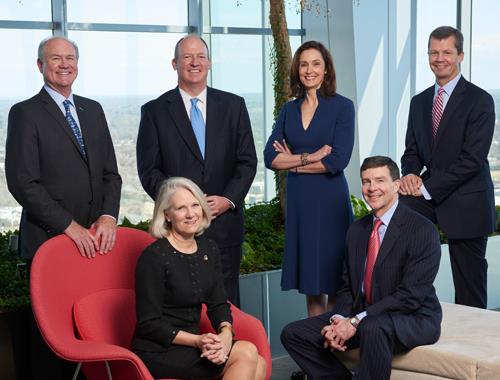 About us
The Bledsoe Cathcart Group
We are a wealth management team that caters to the needs of ultra-affluent clients throughout the United States. As members of the Private Banking and Investment Group at Merrill Lynch, we offer the services and strategies demanded by significant wealth. We are privileged to work with an elite group of clients, and we devote our energy and resources to serving this select group of individuals and families exceptionally well.
Our Difference
Our team offers clients a different experience. From our decades in wealth management, we know what results in client happiness and team satisfaction: exceeding expectations through hard work, unwavering focus, in-depth knowledge, and seamless coordination.
Our team is structured to optimize the client experience. We built our team from the ground up, with ultra-affluent families in mind. Each of our principals focuses on a core component of wealth management and we know the services that are critical to long-term success. We each bring distinctive strengths and skills, creating a synergy of effort. When a client engages our group, he or she does not interact with one of us, but all of us. We communicate very well and spearhead coordinated effort with a client's external tax and legal advisors. We believe strongly in the value of long-term strategies, executed through careful attention to day-to-day details.
Focused on the Needs of Ultra Affluent Families
We offer a holistic approach to wealth management:
Intergenerational wealth transfer
Family wealth education
Asset allocation
Philanthropy
Credit and lending structuring through Bank of America, N.A.
Cash flow strategy
Our objective is to assist high net worth families in preserving and growing their wealth and then transitioning that wealth to the people and causes most important to them.
Investment Management Process
Wealth preservation and enhancement are key priorities for The Bledsoe Cathcart Group. We seek to maximize targeted returns within individualized risk parameters. Our asset allocation models are grounded in widespread diversification; we employ a range of asset classes that offer differing investment styles with varying volatility, risk parameters, and projected returns.
Our investment management process includes multiple approaches and vehicles, such as individually managed core portfolios, external separately managed accounts, mutual funds, structured products, and exchange-traded funds, all chosen to reflect the needs of the clients we service.
Asset allocation does not ensure a profit or protect against loss in a declining market.
Meet the team
Carol Bledsoe is registered to do business in : AL, CA, CO, DC, DE, FL, GA, IL, KY, MA, ME, MO, MS, NC, NJ, NY, OR, PA, SC, SD, TN, TX, UT, VA
Lisa Ray Premo is registered to do business in : AL, CA, CO, DC, DE, FL, GA, IL, KY, MA, ME, MO, MS, NC, NJ, NY, OR, PA, SC, SD, TN, TX, UT, VA
Michael L. Rogers is registered to do business in : AL, CA, CO, DC, DE, FL, GA, IL, KY, MA, ME, MO, MS, NC, NJ, NY, OR, PA, SC, SD, TN, TX, UT, VA
William Van Smith Jr. is registered to do business in : AL, CA, CO, DC, DE, FL, GA, IL, KY, MA, ME, MO, MS, NC, NJ, NY, OR, PA, SC, SD, TN, TX, UT, VA
Robert C. Ziegler is registered to do business in : AZ, CA, CO, FL, GA, IL, MA, MI, NC, NJ, NY, OH, PA, SC, SD, TX, UT, VA, VT