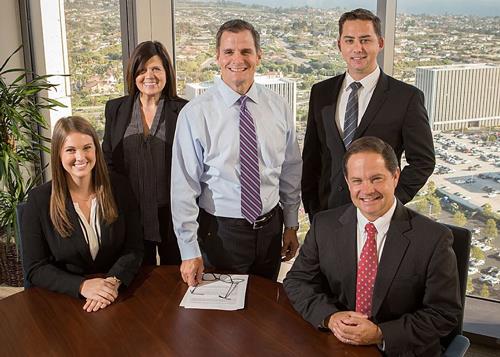 About us
The Blanchfield Group
Located in Southern California the Blanchfield Group works with a select number of ultra affluent clients to devise and deploy wealth management strategies that enhance clients' financial lives. As of January 1, 2017, clients have entrusted our team with approximately $1.8 billion in assets. We work exclusively with individuals and families infusing our approach with personal warmth and an emphasis on life's most important priorities.
Our Distinctive Client Profile
We are privileged to serve an elite group of highly successful individuals; many are senior corporate executives, company founders or private entrepreneurs. Though varied in their individual paths to wealth these clients share several characteristics. They typically have experienced a singular event that has transformed their wealth outlook. They may have sold a business, received a large wealth transfer or amassed a concentrated stock position. They recognize that they are able to sustain their lifestyle through their financial assets, but want direction and tactics to pursue an informed strategy. These clients still have goals for their money. In the same way that they have opportunistically approached their businesses they also approach their wealth. We call this mindset "goals based wealth management" and it is a pillar of our service model.
Our Edge
Our team offers clients in depth experience combined with dedicated service. We are old enough to have amassed a storehouse of practical knowledge yet young enough to apply our considerable energy to propel client interests. We look to foster long term relationships not only serving our current generation of clients, but successive generations. We serve clients with a humility and care that testifies to our deep rooted interest in their lives. Clients engage us for our skill, but they stay with us because of our unwavering focus on their interests. We take the time to know clients well. We insist on customized strategies recognizing that affluent clients deserve and demand a nuanced approach that cannot be mass produced. Our team structure promotes depth of service and responsibility. We nurture a collegial environment that promotes a warm and personalized client experience.
Our Experience in Diversifying Concentrated Positions
Concentrated wealth poses significant challenges. Clients seek diversification and liquidity, but are often perplexed by regulatory requirements and timing constraints. Our team has significant experience in navigating the hurdles that concentrated positions can involve. We believe that there is no substitute for experience in this arena. We have helped a number of clients move from concentrated equity positions to diversified investment portfolios. We help clients anticipate and respond to single event risk identifying tactics and strategies to decrease exposure, enhance diversification and increase liquidity. Our team is well versed in Rule 144/145 Filings. We recognize that a workable diversification strategy is built on sound analytics and attentive implementation.
Our Range of Services
As members of the Private Banking & Investment Group we are a gateway to the services and strategies required by significant wealth:
Tax efficient investment management
Income oriented investment management
Investment diversification through asset allocation
Hedging and monetization of concentrated positions
Integrated banking offerings with 24 hour personal customer service
Trust and estate planning services
Personal banking services through Bank of America, N.A.
Residential and securities based lending through Bank of America, N.A.
Private equity investments
Philanthropy
Family meetings

Neither Merrill Lynch nor its Financial Advisors provide tax, accounting or legal advice. Clients should review any planned financial transactions or arrangements that may have tax, accounting or legal implications with their personal professional advisors.

Asset Allocation does not ensure a profit or protect against loss in declining markets.

Some or all alternative investments may not be suitable for certain investors. Certain alternative investments carry significant risk and are not subject to the same regulatory oversight as mutual funds and other traditional investments. For these reasons, access to alternative investments may be limited to investors who are designated as sophisticated, high-net-worth investors.

Certified Financial Planner Board of Standards Inc. owns the certification marks CFP® and CERTIFIED FINANCIAL PLANNER™ in the U.S.

Investment Management Consultants Association (IMCA®) is the owner of the certification marks CIMA® and Certified Investment Management Analyst®. Use of CIMA® or Certified Investment Management Analyst® signifies that the user has successfully completed IMCA's initial and ongoing credentialing requirements for investment management consultants.
Meet the team
Thomas Blanchfield is registered to do business in : AK, AZ, CA, CO, CT, DC, DE, FL, HI, ID, IL, KS, KY, MA, MI, NC, NJ, NV, NY, OH, TN, TX, UT, WA, WI
Justin Vaicek is registered to do business in : AK, AZ, CA, CO, CT, DC, DE, FL, HI, ID, IL, KS, KY, MA, MI, NC, NJ, NV, NY, OH, TN, TX, UT, WA, WI