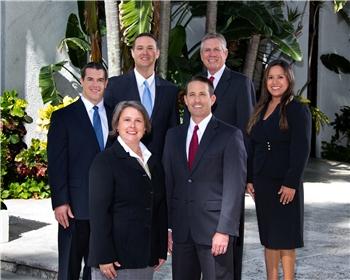 About us
The Andrews Luther Group
Since 1977, we have helped our clients pursue their long-term investment and retirement goals. We recognize that each client has their own unique investment objectives of growth, income, and wealth preservation. Our team's shared knowledge, broad experience, and perspective guide our disciplined investment process and allows us to help our clients pursue their financial goals.
We offer the personalized services and intimacy of a boutique firm combined with the global resources of Merrill Lynch and Bank of America.
Client Focus
Our team provides financial advice and wealth management services to approximately 50 family groups with assets valued at approximately $1 billion as of January 1, 2017.
We provide wealth management services to high-net-worth families, foundations, executives, and business owners. Our service model is committed to excellence in client service and strives to enhance the financial lives of our clients.
Our Approach
We utilize a goals-based wealth management process to help our clients identify and pursue their long-term goals. We start by listening to our clients so we can understand their personal, professional and family goals. With an in depth understanding of what is important to each client we can help build a long-term plan and investment strategy that allows them to pursue their goals and aspirations.
Team Emphasis
Investment Management
Retirement Planning
Responsive Service Personalized to Client Preferences
Personalized Income Strategies
Trust & Estate Planning Services through U.S. Trust® (Trusteed IRA and Corporate Trustee)
Strategic and Tactical Asset Allocation
Education Planning Services (529 Savings Plan)
Alternative Investments (private equity funds, market linked notes, hedge funds)
Banking & Lending (residential lending, securities lending, commercial lending, aircraft, marine, art)
Concentrated Stock Strategies (exchange funds, prepaid forwards, Rule 144 sales)
Our Achievements and Professional Certifications
Paul Luther recognized by Barron's "America's Top 1,200 Advisors: State-by-State" in 2011, 2012, 2013 and 2014* awarded in his former role as a Private Wealth Advisor.
Christopher Andrews recognized by Barron's "America's Top 1,000 Advisors: State-by-State" in 2010, 2011, 2012 and 2013*
Christopher Andrews and Jacob Webb hold the Chartered Financial Analyst® Designation
Christopher Andrews and David Luther hold the CERTIFIED FINANCIAL PLANNER™ Certification
Jacob Webb holds the Chartered Retirement Planning CounselorSM Designation
Jacob Webb holds the Merrill Lynch designated role of Portfolio Manager
David Luther holds the Merrill Lynch designated role of Portfolio Advisor
Christopher Andrews holds the Merrill Lynch designated role of Senior Portfolio Manager

U.S. Trust, Merrill Lynch, and their affiliates do not provide legal, tax or accounting advice. You should consult your legal and/or tax advisors before making any financial decisions.
Meet the team
Christopher Andrews is registered to do business in : AL, AZ, CA, CO, CT, DC, DE, FL, GA, ID, IL, LA, MA, MD, ME, MI, MN, MO, MT, NC, NH, NJ, NM, NV, NY, OH, OK, PA, SC, TN, TX, UT, VA, VT, WA
Jacob Webb, CFA, CRPC® is registered to do business in : AL, AZ, CA, CO, CT, DC, DE, FL, GA, ID, IL, IN, LA, MA, MD, ME, MI, MN, MO, MT, NC, NH, NJ, NM, NV, NY, OH, OK, PA, SC, TN, TX, UT, VA, VT, WA
David Luther, CFP® is registered to do business in : AL, AZ, CA, CO, CT, DC, DE, FL, GA, ID, IL, KS, LA, MA, MD, ME, MI, MN, MO, MT, NC, NH, NJ, NM, NV, NY, OH, OK, PA, SC, TN, TX, UT, VA, VT, WA