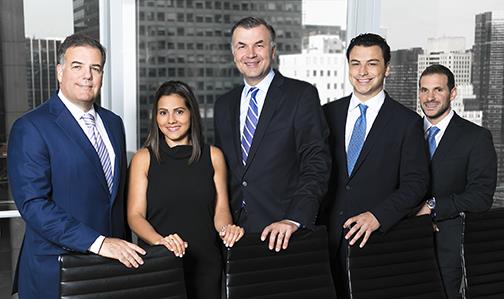 About us
The Team
Located in New York City, Andjelkovic & Knauf, Private Wealth Advisors is a wealth management team in the Private Banking and Investment Group at Merrill Lynch. Our group works with a select number of individuals, family offices and non-profit organizations offering expansive, highly tailored, integrated approach to wealth management. Our clients are private business owners, CEOs of publically traded companies as well as leaders of industries including real estate, technology and finance. The senior members of our team, Voja Andjelkovic and Michael Knauf, have worked together since 1996. Their long standing partnership coupled with decision making honed over many years and market cycles provides our team with discipline and judgment.
Our Approach
We are investors. We are students of history and markets. We believe that asset allocation is the foundation of long term financial success. We strive to manage and minimize risk. We inherently recognize that every client is different. We acknowledge many complexities of significant wealth and importance of keeping client interests front and center. Always. We put a premium on discretion and confidentiality. We are zealously committed to an exceptional client experience.
True wealth management is multi-faceted. Our singular investment focus is to deliver consistent and superior long-term performance. We strive to reduce risk and volatility through diversification across portfolio sizes, styles, geographies and capital structures. While investment management is a pillar of our practice, we bring hands-on involvement in multiple disciplines ranging from generational planning and philanthropy to customized lending and aircraft financing. With access to the combined vast resources of the Private Bank and US Trust Company – we work with clients' external tax and legal advisors to streamline and coordinate the unified pursuit of their financial objectives.
Our Value
We offer unbiased advice, rigorous investment analysis, collaborative approach, exceptional client service, and diligent follow-through. We are transparent about our roles and responsibilities. Our support staff is integral to our long term success continuously striving to exceed expectations as well as refine our services based on evolving circumstances and environments. Our main goal is to simplify, organize, and enhance clients' financial lives.
Scope of Our Services
We provide a range of services focusing on the following:
Asset Allocation Review– Strategic and Tactical
Investment Policy Statement Review
Investment Management
Alternative Investments
Restricted/Concentrated stock management and 10b5-1 plans
Credit and lending solutions through Bank of America, N.A.
Trust and estate planning services (administration, compliance and reporting)
Private Banking Services
Next Generation Education
Asset allocation does not ensure a profit or protect against loss in declining markets.
Investment products are offered by Merrill Lynch, Pierce, Fenner & Smith, Incorporated.
Banking products are offered by Bank of America, N.A.
Some or all alternative investments may not be suitable for certain investors. Certain alternative investments carry significant risk and are not subject to the same regulatory oversight as mutual funds and other traditional investments. For these reasons, access to alternative investments may be limited to investors who are designated as sophisticated, high-net-worth investors.
Investment Management Consultants Association (IMCA®) is the owner of the certification marks CIMA® and Certified Investment Management Analyst®. Use of CIMA® or Certified Investment Management Analyst® signifies that the user has successfully completed IMCA's initial and ongoing credentialing requirements for investment management consultants.
Meet the team
Vojislav Andjelkovic is registered to do business in : CA, CO, CT, DC, DE, FL, IL, MA, MD, MI, MN, NC, NE, NJ, NV, NY, OR, PA, SC, TX, VA, VT, WA, WI, WY
Michael Knauf is registered to do business in : CA, CO, CT, DC, DE, FL, IL, MA, MD, MI, MN, NC, NE, NJ, NV, NY, OR, PA, SC, TX, VA, VT, WA, WI, WY
Michael Sanzone is registered to do business in : CA, CO, CT, DC, DE, FL, IL, MA, MD, MI, MN, NC, NE, NJ, NV, NY, OR, PA, SC, TX, VA, VT, WA, WI, WY